I love estate sales and I have some great estate sale finds in my collection of WWII memorabilia.
Last year I went to one that had a large cardboard box full of WWII correspondence, maps, and other amazing stuff I'd never seen before. Take a look and let me know if you find these as fascinating as I do.
Estate Sale Finds – Airplane Spotter Dial
As you rotate the dial you can see 12 different planes depicted on each side. Of all the things I've found at estate sales, this may be the coolest.
Estate Sale Finds – War Album of Victory Battles
The War Album of Victory Battles and accompanying stamps, issued by General Mills in 1945 is another colorful item that folks back home could buy. These booklets commemorated sixteen battles, three in France and the rest in the southwest Pacific.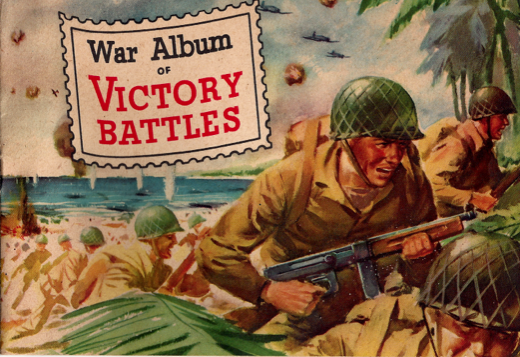 The stamps shown below represent the Battles of Midway and Guadalcanal.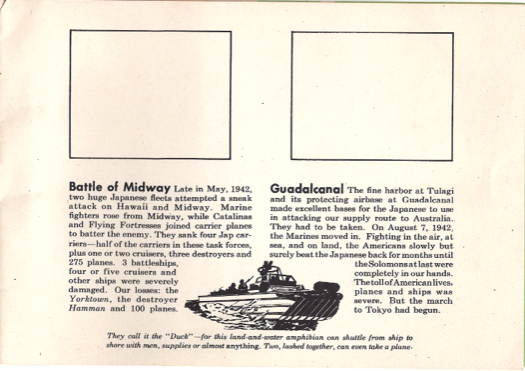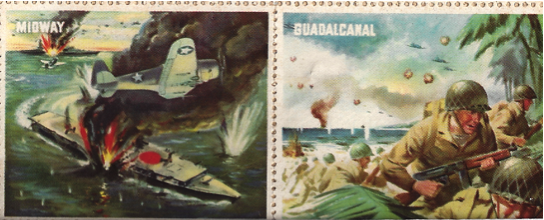 Let me show you some of my most recent treasures. I must confess that I don't know for certain that this fan is from the WWII era, but I suspect it is because the telephone number of the company that distributed this fan was only three digits – "Phone 380". I think this is a beautiful fan.
Estate Sale Finds – Statue of Liberty Fan
Estate Sale Finds – Leather Military Service Record Holder
The leather binder for service records shown below was distributed by Henry's, "Home of Society Brand Clothes", in Wichita, Kansas. Henry's closed in 1993 after being in business over 80 years.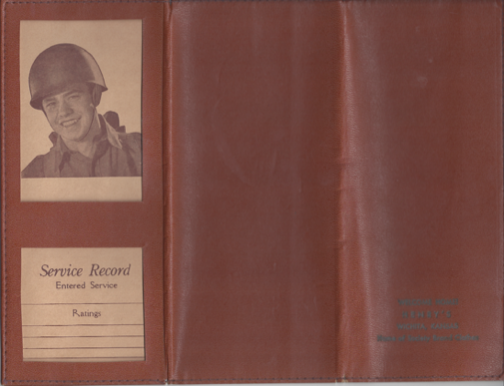 I also bought two issues of The Stars And Stripes Mediterranean editions dated Tuesday, March 21, 1944 and Monday October 22, 1945. They are both rather fragile but I'm putting them into acid-free binders which should help slow down their deterioration. I didn't realize that The Stars and Stripes had different versions for different theaters of war but that makes sense. I guess now I'm going to have to get on ebay and look for some issues of The Stars and Stripes from the Southwest Pacific theater. Oh well, it's just money.
Coming Up Next: Researching Ila's War
Credits:
Aircraft Spotter Dial.  copr. 1943, Advertisers' Serv. Div., Inc. N. Y.
War Album of Victory Battles. prepared for General Mills, Inc. by Geographical Publishing Co. copyright 1945, General Mills, Inc.
Statue of Liberty hand fan. Standard Adv. & Ptg. Co., Fort Scott, Kansas