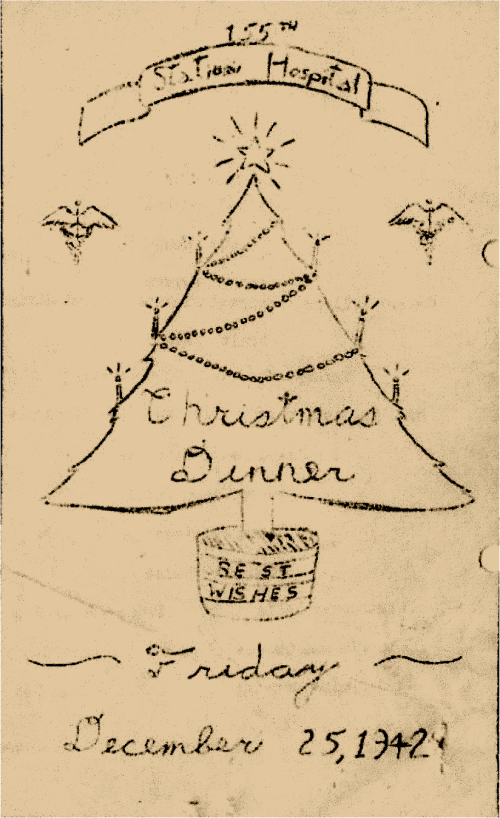 155th Station Hospital Christmas Card, Drawn by Unknown Staff Member
Christmas Day, 1942 menu and greeting
Lt. Col. Carl F. Steinhoff, commanding officer of the U. S. Army's 155th Station Hospital, Queensland, Australia, was worried about the morale of his officers, enlisted men, and nurses. They were far from home, caring for wounded and sick Marines with the 1st Marine Division who had been fighting on Guadalcanal, and Christmas Day, 1942 was rapidly approaching.
Steinhoff believed that a celebratory dinner, reminiscent of Christmas feasts back home, might help relieve the melancholy and homesickness of his staff, so he arranged to have a card (shown above), menu, and personal greeting delivered to each man and woman under his command, and a dinner prepared and served on Christmas Day, 1942. The menu and Steinhoff's greeting is shown below. I've also reproduced the greeting because it is somewhat difficult to read.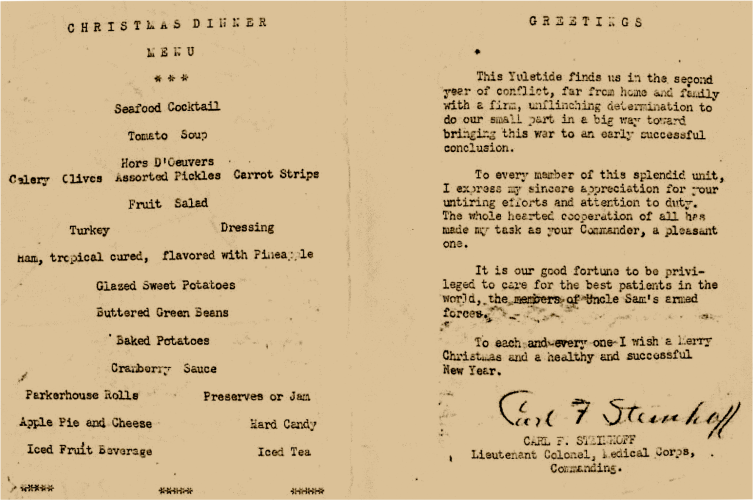 Greetings
This Yuletide finds us in the second year of conflict, far from home and family with a firm, unflinching determination to do our small part in a big way toward bringing this war to an early successful conclusion.
To every member of this splendid unit, I express my sincere appreciation for your untiring efforts and attention to duty. The whole hearted [sic] cooperation of all has made my task as your Commander, a pleasant one.
It is our good fortune to be privileged to care for the best patients in the world, the members of Uncle Sam's armed forces.
To each and every one I wish a Merry Christmas and a healthy and successful New Year.
Carl F. Steinhoff, Lieutenant Colonel, Medical Corps, Commanding
Memo for Christmas Day, 1942
Each member of the 155th was also given a roster of all the personnel as a keepsake to remember the folks with whom they served in later years. Attached to the roster was a memo explaining that the roster was confidential and should not be mailed home. The memo is shown below and I've reproduced its contents also. APO 923 was the post office box number that folks back home used when they wrote letters and sent packages to their loved ones.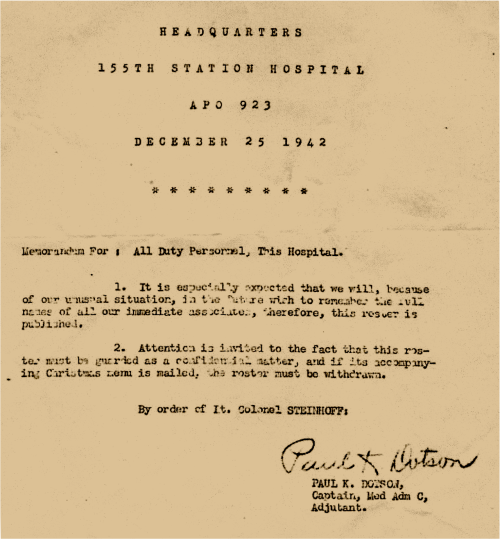 Memorandum For: All Duty Personnel, This Hospital.
1. It is especially expected that we will, because of our unusual situation, in the future wish to remember the full names of all our immediate associates, therefore, this roster is published.
2.  Attention is invited to the fact that this roster must be guarded as a confidential matter, and if its accompanying Christmas menu is mailed, the roster must be withdrawn.
By order of Lt. Colonel STEINHOFF
Paul K. Dotson, Captain, Med Adm C, Adjutant.

Roster of Personnel of 155th Station Hospital, Christmas Day, 1942
The complete roster is reproduced below.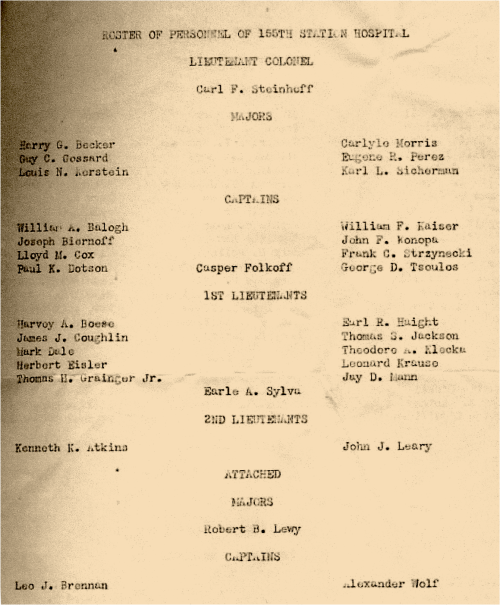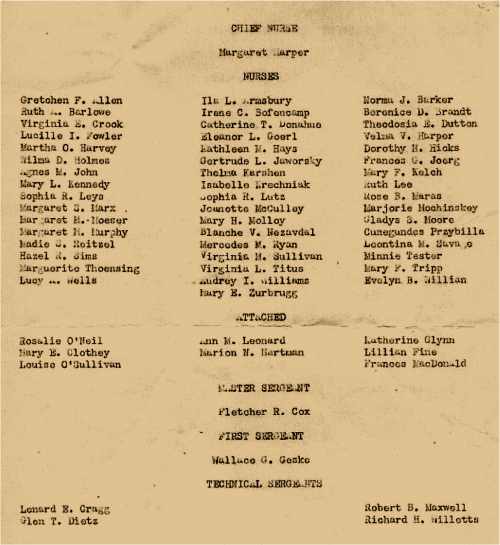 (Note that Ila's name is the first one in the middle column above.)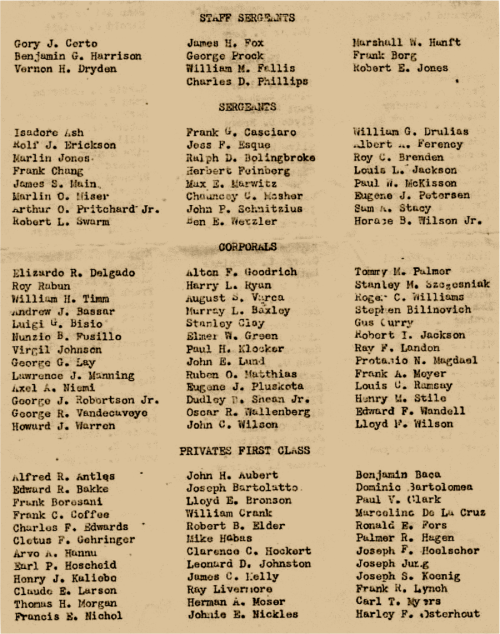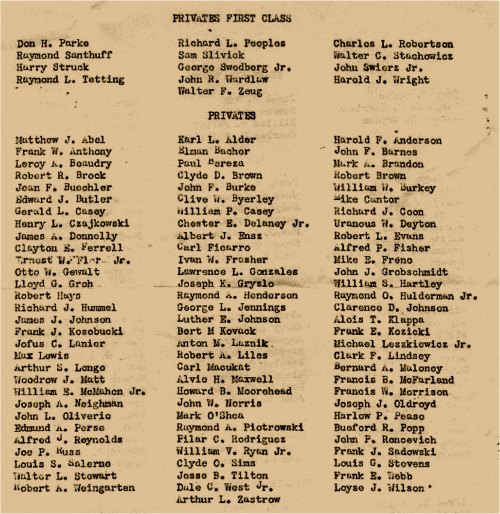 I have no way of knowing if any of the men and women with whom Ila served are still alive. I can only hope that as you readers send the link to my web pages and blog out into the universe, maybe someone who was related to a member of the 155th will eventually see this roster.
I want to wish you all a most wonderful holiday season. Below is a card that Ila sent her folks for Christmas, 1944. Hope you enjoy it – consider it Ila's and my gift to you.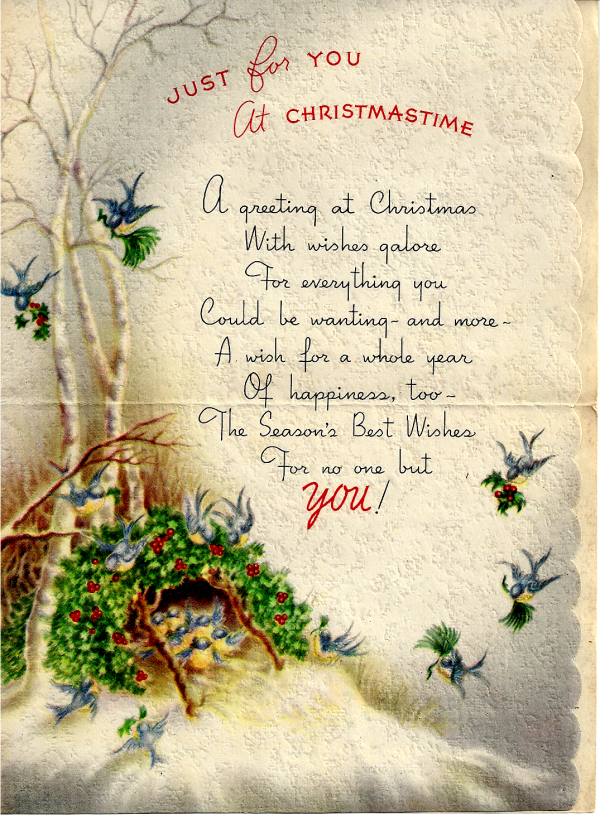 NEXT:  WWII Sweetheart Jewelry