I love jewelry but when the proprietor of a local military surplus store asked, "Want to see some WWII Sweetheart jewelry?" I responded, "What's that?" Since you're reading this blog, you may be much better informed than I was about the incredible variety of jewelry that was created during the war and given to loved ones. An excellent introduction to Sweetheart Jewelry can be found at http://antiques.about.com/od/historyandinformation/a/aa110899.htm?rd=1
WWII Sweetheart Jewelry was made by local craftsmen, jewelers, even servicemen in the trenches using whatever materials were at hand. Quite of bit of the jewelry is sterling silver but there are also pieces made of gold, aluminum, and pot metal among other things. There are even some great bakelite items but they are rare and expensive.
WWII Sweetheart Jewelry – ear rings
As it turns out, I purchased a fascinating pair of WWII earrings at an estate sale years ago without knowing their significance. As you can see the earrings are made from Mercury Head dimes minted in 1925. The maker used acid to etch out the extraneous material, leaving only the word "Liberty", the mint date, and the head. I bought them because I thought they were cool.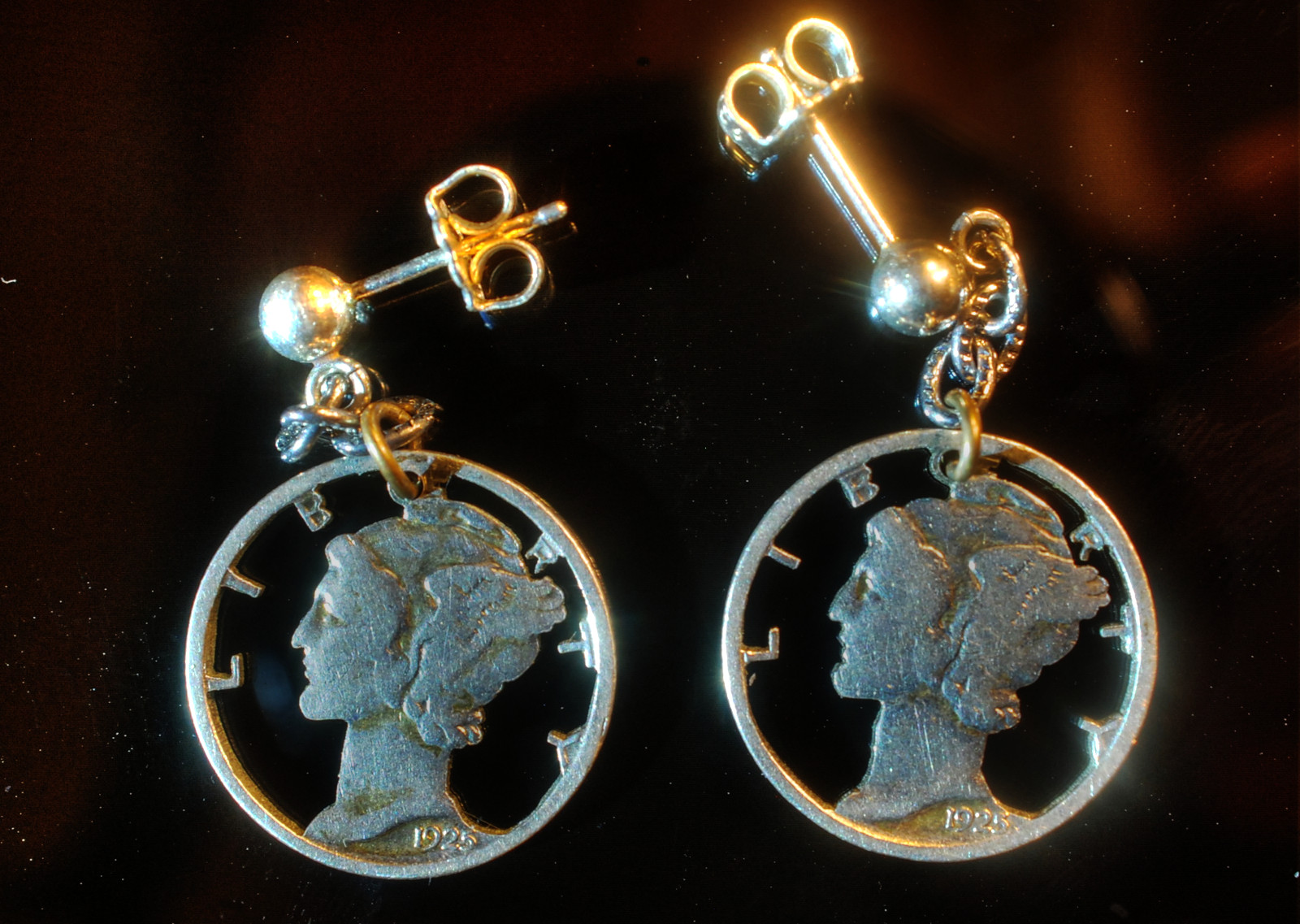 WWII Sweetheart Jewelry – lockets
I've since seen pendants made from Mercury Head dimes, but my earrings are the only example of acid-burned dimes I've found. I always get interesting comments when I wear them. I purchased the sterling silver locket pictured below from the owner of the military surplus store after she explained its significance. The locket opens allowing one to insert two small photographs or a lock of hair or other memorabilia. The thing that I found fascinating and unsettling is the decoration on the locket – two crossed rifles signifying the infantry. This locket was originally purchased in Australia during WWII.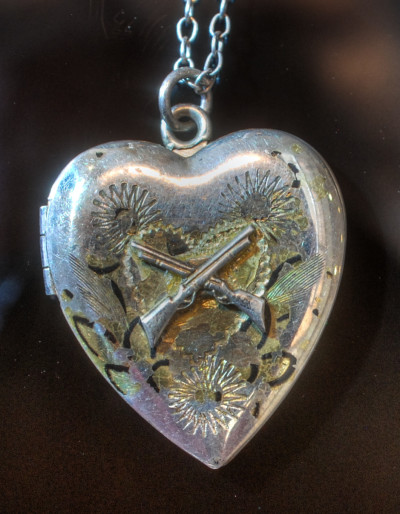 Crossed rifles are a common decoration in Sweetheart jewelry. I found this sterling silver pin and locket at an antique store in McPherson, Kansas. Note that the guns in the locket pictured below are different from the guns displayed in the locket above.
This locket isn't hinged. It opens by sliding the front and back pieces in opposite directions. Crossed rifles weren't the only gun-related items depicted in WWII jewelry. Real or artificial ammunition was also frequently part of Sweetheart jewelry. Check out Byron Roche's collection at http://www.byronroche.com/sweetheart.html.  His web site shows a pin that Roche identified as a replica of a P38 made from the shell casings of 50 caliber machine gun bullets. He also has a belt buckle made from smaller bullets.
WWII Sweetheart Jewelry – pins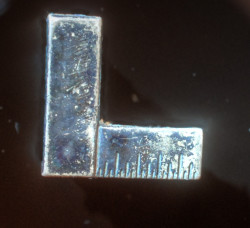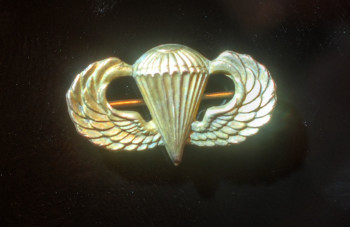 The two interesting pins above were worn by US troops  during WWII and appear in books about Sweetheart jewelry.  The sterling silver pin on the left, a little smaller than a quarter, is a replica of a square. It may have belonged to a Seabee or a member of the Corps of Engineers. On the right is a paratrooper pin which is also sterling silver. As  you can see, it has a gold patina. A similar pin on ebay, was identified as a "US Army Airborne Paratrooper's Jump Wings qualification badge pin." The winged pin below wasn't worn by US troops but by civilians who were members of the GOC – Ground Observer Corps. The pin reads "United States Air Force Supervisor GOC".  According to http://www.radomes.org/museum/documents/GOC/GOC.html the Ground Observer Corps was composed of civilian volunteers who watched for enemy aircraft along the U. S. coastlines.

In-Service pins, also called mother pins or blue star mother pins, may have been the most common of all the WWII Sweetheart jewelry. The pin, like the banner hanging in the front window of a family home, signified the number of family members serving in the military. I have two In-Service pins, one a small, rectangular pin with a single blue star on a white background with a red border, and the other a sterling silver pin with the single star, but attached by a chain to a pin with wings and a single propeller. The pin on the left was worn by a family member with a loved one serving in one of the branches of the US military during WWII. The star pin on the right, which is close to its actual size,  would have been worn by someone with a loved one serving in the US Army Air Force or a pilot in the US Navy. There are In-Service pins with two or more stars but they are rare and expensive.   (Note that the two silver attachments sticking out from the left side of the one-star pin are not part of the pin. They were used by the photographer to hold the pin upright.)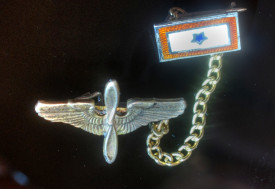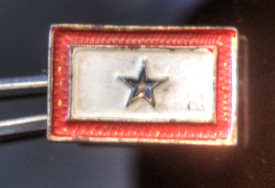 Pins made especially for mothers from mother-of-pearl were frequently purchased by US service men and women who then mailed the pins home. My great aunt, Ila Armsbury, purchased the pin shown below for her mother, Florence. I found it in my grandmother Wava's jewelry box after Wava's death in 2004. The word "Mother" appears to be made of brass as is the back of the pin.

Sweetheart compacts were also common during the war, given as gifts to wives, mothers, and girl friends. The compact pictured below represents the US Army Air Force with the Army insignia centered on the face of the compact and the blue background signifying the Air Force. You can tell from the wear on the face of the compact that it was frequently used.
 WWII Sweetheart Jewelry – compacts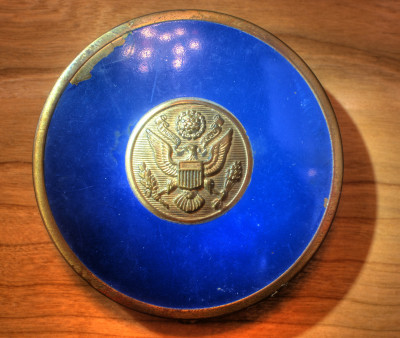 WWII Sweetheart Jewelry – a piece I'd like to have
One piece of Sweetheart jewelry I don't have but would like to find is a WWII RN caduceus pin to represent Ila's contribution to the war effort. I've seen one with the letters "PN" and one with "LPN" so I'll keep looking for one with "RN". I have one of a pair of caduceus cufflinks (I know it's a cufflink because it has a screw back) but don't know whether it's from WWII or the Korean War and there is no identifying mark to help me figure it out.  As you can see, this cufflink is quite worn.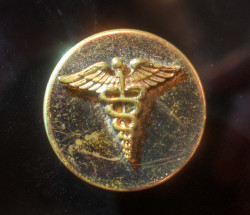 WWII Sweetheart Jewelry – rings
My last piece of jewelry to share with you, and the my most treasured, is a sterling silver ring that Ila purchased for herself while she was in Australia. It has her initials, IA, engraved in the middle of the puffy heart. Stamped on the underside is the word "Australia" and this: "D:IMK      GEOR"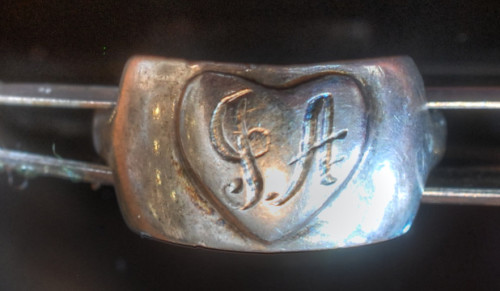 (The photographer is using a special apparatus to hold the ring upright to display the heart and Ila's initials.)
I have no idea what the letters mean although I think that GEOR may be short for George. If anyone knows what "D:IMK" stands for, I'd love to hear from you. I've looked briefly for Korean War Sweetheart jewelry but the few items I've seen on the internet can't be dated exclusively to the Korean War. Some of the items are probably from WWII, and some are from the Viet Nam era. If you decide to start collecting Sweetheart jewelry – with WWI and WWII jewelry the most readily available – consider purchasing Nicholas D. Snider's excellent book Antique Sweetheart Jewelry, published in 1996 by Schiffer Publishing Ltd., Atglen, PA. This paperback book is full of historical information about Sweetheart jewelry from both WWI and WWII as well as pages of colorful photographs and a price guide. Remember the publication date was 1996, 17 years ago so prices have increased. In spite of that, I've found the price guide to be very helpful when I'm bidding on an item on ebay or another internet auction site. Happy hunting!