The Decision
One of my first tasks, before I started working on my book, Ila's War, was to obtain a copy of Ila's military records from the National Archives. But once I had her records I confronted a problem. I knew nothing about the 155th Station Hospital (SH), the U. S. Army military unit to which she was assigned while in Australia during WWII. Luckily I found the WW 2 US Medical Research Centre at http://med-dept.com created by Alain S. Batens of Belgium and Ben C. Major of England. As they explain in their welcome, "The site was founded by two World War 2 medical collectors and re-enactors from Europe, frustrated by the lack of comprehensive research tools for this area of WW2 History. The site originally started out as a database of United States Medical Department Item numbers and descriptions." Between them, Alain and Ben own one of the largest private collections of WWII US military medical memorabilia in the world. Movie producers, historians, educators, and authors routinely consult with Ben and Alain to obtain accurate information about American medical practices during WWII. Alain and Ben were and are my go-to guys for any information I need about the 155th SH. We've been emailing for over 5 years and I always hoped there'd come a time when I might meet them in person to thank them for their unfailing support, encouragement, and knowledge. When I learned from Alain in October, 2013, that he and Ben would be in Normandy for D-Day 2014 observances, I told my spouse I wanted to go, too, and received his enthusiastic "okey-dokey."
Going to France
Jim and I were supposed to fly out of Wichita on Friday May 30 but due to a miscommunication our flight was cancelled unbeknownst to us. Initially I panicked as we stood at the American Airlines (AA) ticket counter and watched an AA staff member stare at a computer screen looking for flights for us. I felt the tension rising, my eyes were bulging, and I got what is known by my family as "the look." (Apparently when I'm angry it shows on my face.) But everything turned out great. The AA staff re-booked our flight for Saturday with no problem (because all the other Friday flights were already full) and the travel agency, which had made all our reservations for ground transportation once we arrived in France, worked rapidly and efficiently to change those reservations to fit the new schedule. Everything went off like clockwork – the flight, the shuttle from Charles de Gaulle airport to St. Lazare train station, the train ride to Cherbourg, the taxi to our hotel, and the ride to get our rental car.
Tourlaville and the Hotel du Manior
Alain's hotel reservation was in Ste-Mere-Eglise (more about this historic village later) but by the time I made our lodging reservations in November of 2013, no rooms were available there. So we wound up in Tourlaville.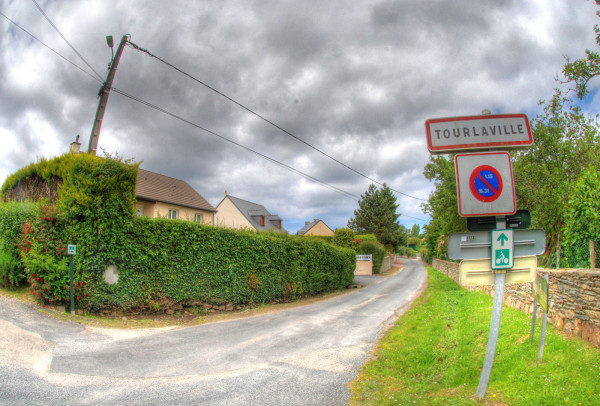 We stayed at a beautiful hotel, the Hotel du Manoir  which had originally been a 16th century mansion. Take a look at this web site,  http://www.hoteldumanoir.eu and you'll see photos of the hotel, some of the rooms and the lovely grounds. Below is a photo that Jim took through the archway cut into a 10′ hedge that separates the grounds from the parking lot.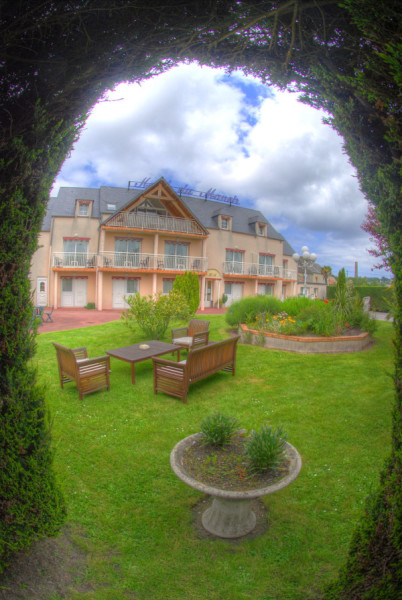 You can really get a sense of the original 16th century mansion if you go around to the back of the hotel. The photo below shows the small courtyard and the wonderful features of the old building.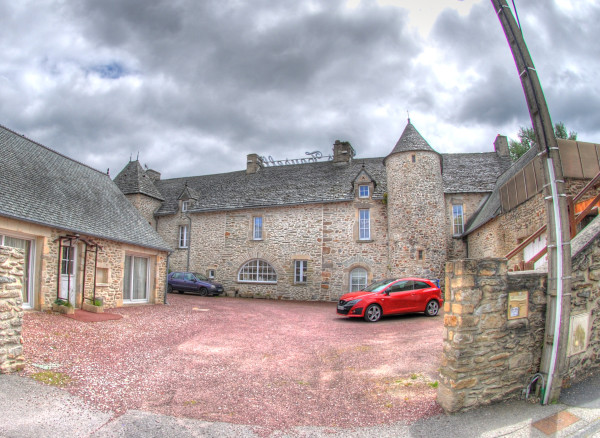 The manager of the Hotel du Manoir is Catherine Charrayre, one of the most delightful people you will ever meet. Her English is very good, especially compared to my pathetic French. Cathy made a deal with me Sunday evening right after we arrived. She would practice her English by speaking it to me and I could practice my French by speaking French to her. I held up my end of the bargain, carrying my French/English dictionary with me everywhere, and frequently writing down in French what I wanted to say before I tried it with her and with the gracious manager of "Les Tourelles," the wonderful French restaurant next to the hotel. God, I love French food! I'm going back but first, starting this fall, I'm taking some French classes. That one year of French in high school – back in the dark ages – just wasn't enough.
D-Day Stories from Bud Rice – a WWII pilot
Our first full day at the hotel we watched as two vehicles pulled into the parking lot and several people emerged, carrying luggage. I was just getting ready to ask, "Parle vous American?" when I overheard someone in the group speaking English. The new guests turned out to be Bill Prindible, Bud Rice, and some of Bud's family. Bud and Bill are World War II veterans, each 93 years old, who flew C-47s over Normandy, dropping paratroopers from the 101st Airborne Division on D-Day. Jim and I had the honor of spending an evening with Bud and one of his sons over a delightful meal at "Les Tourelles."
Over dinner Bud talked about his pilot's training. He was sworn in on April 1, 1942 and was sent to San Antonio for six weeks of pre-flight school, then to Cimmaron Field outside of Oklahoma City for six weeks of primary flight school in a PT-19 aircraft. It was a two-seater with an open cockpit.
For his first flight, Bud sat behind the instructor who flew the plane. The instructor told Bud that their first task was to check how well Bud's safety belt worked, so the instructor turned the plane over and flew it upside down. He asked, "Is the safety belt working okay?" ""Yes," came Bud's shaky reply. "Good! Now let's do it again and I want to see your hands." (Bud had grabbed hold of part of the plane when it first started turning upside down.) The instructor flipped the plane the second time and Bud held on with one hand while raising the other hand over his head. You can guess the instructor's response: "Both hands not just one." Bud summed up his story by saying, "If you didn't throw up, you were a pilot."
Rather than re-count more of Bud's stories I'm including a link to NBC News where you'll get to meet Bud, Bill, and other WWII vets who attended some of the D-Day observances. The web site is www.nbcnews.com/storyline/d-day-70th-anniversary and there you'll get to see and hear 37 different stories from vets and their families. For a two-part interview between Bud and Tom Brokaw, go to www.warbirdsnews.com/warbirds-news/d-day-daks-returned-france.html (for part 1) and www.nbcnews.storyline/d-day-70th-anniversary/veterans-reunite-d-day-c-47-aircraft-n124126  (for part 2).
Our Traveling Companions
Alain was supposed to meet Jim and me at our hotel on Thursday morning, June 5. He had laid out a packed itinerary for all of us, but as so often happens, life interfered. Due to a family emergency, Alain had to cancel his trip to Normandy at the last minute. While I was extremely disappointed that I didn't get to meet Alain in person, Ben Major and his father, who have been attending D-Day ceremonies for the past 15 years, took over as our tour guides and we spent a fabulous day with them and Ben's two friends, Andy and Katie. I'm positive that we had the best-informed, most charming guides in all of Normandy.
WWII Vehicles
After the war ended, the Americans went home but they left behind all the military vehicles that had been sent over to use during the fighting. There are thousands of WWII U.S. military vehicles still on the roads in France today. I must confess that at first I found it unsettling to see a military vehicle, complete with uniformed troops (actually they were French and English re-en-actors) with guns (I don't know if the guns were real or fake) driving along country lanes. It took some getting used to.
The Normandy American Cemetery and The Wall of Remembrance
Our first stop was the Normandy American Cemetery at Colleville-sur-Mer where 9,387 American troops are buried. The first thing you see is not rows of grave markers but peaceful and gorgeous landscaped grounds. It's not until after you have followed the signs directing you along the pathways that you get your first look at the cemetery. The silence there is profound — there were people planting flags in preparation for the ceremonies on June 6,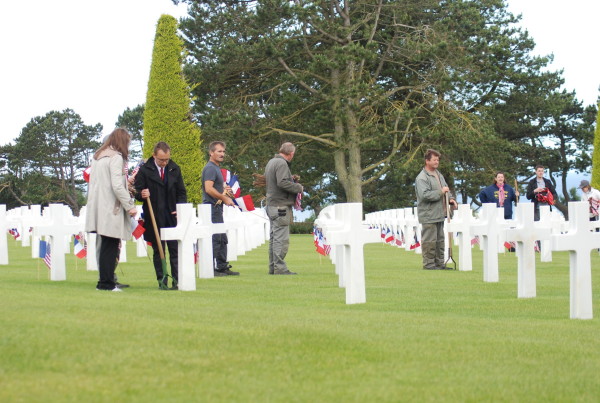 people walking through the cemetery looking for specific graves; tourists like us — and the silence, except for birds singing and the white noise of a gentle breeze. It's sacred ground in every sense of the words — like a church, mosque, or temple but outdoors. And then there are the graves. There are no words to describe the scene.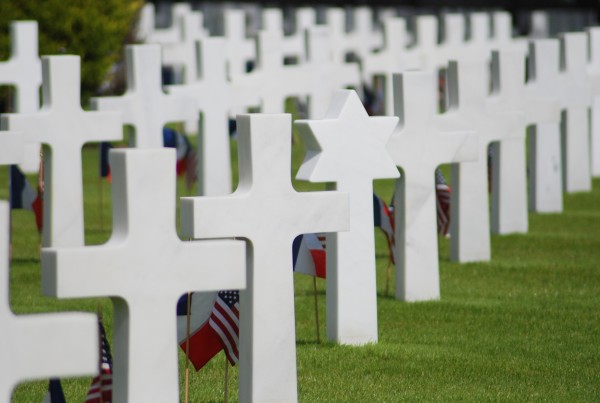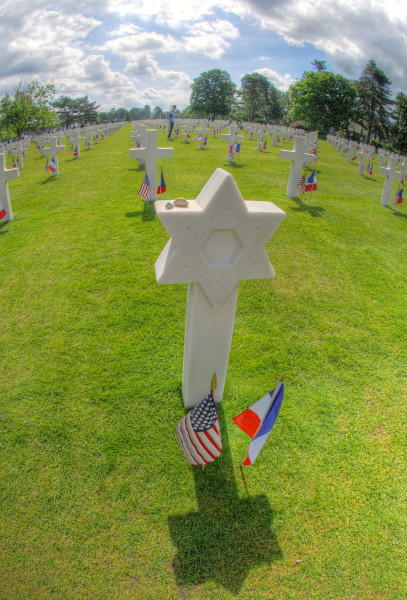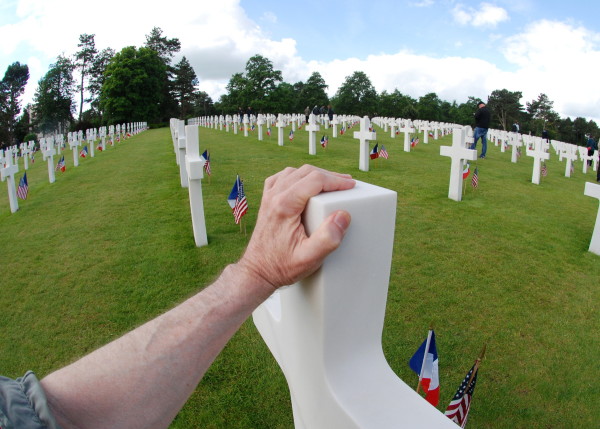 It's one thing to see photos or television coverage of this cemetery because they provide barriers between the viewer and the graves. But there are no barriers when you're standing in the cemetery and you see a grave with fresh flowers on it. It was the flowers that overwhelmed me. These aren't TV and movie graves with the bodies of fictitious heroes but the final resting places of real men and women who died on D-Day and in the days following — people who are still mourned by those left behind to remember. And while I have no family buried there, I mourned, too. How can anyone see all those graves and remain unmoved? (For more information about the Normandy American cemetery and other American cemeteries around the world, go to www.abmc.gov/sites/default/files/publications/Normandy_Booklet_4-8-2014_508.pdf
Our next stop was the Wall of the Missing which contains the names of "1,557 Americans who lost their lives in the invasion of Normandy and associated operations, but whose remains could not be located or identified." (p. 14, Normandy American Cemetery and Memorial, American Battle Monuments Commission) The wall is inscribed with the name and state of the missing troops. I looked for names of Kansas men and although I didn't recognize any names, two jumped out at me — Jay B. and William W. Moreland, presumably brothers, from Kansas. They were assigned to the 149th Engineer Combat Battalion of the 6th Engineer Special Brigade.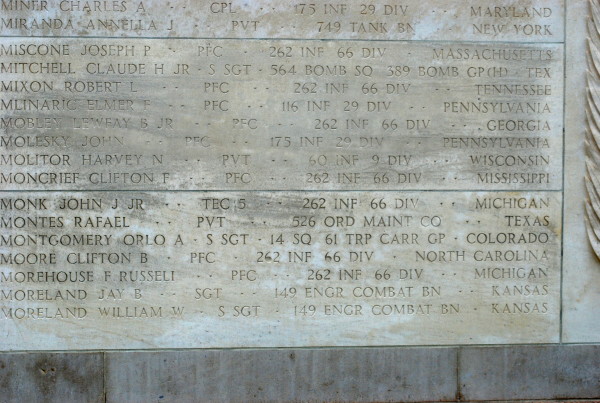 I can't imagine what their loved ones back home, especially their parents, must have felt when they were notified that both men were missing in action. I regret that I have been unable to find additional information about these two men but I did find a web site which provides information about the 6th Engineer Special Brigade, the 149th Engineer Combat Battalion, and the D-Day landing. There is also a great map of Omaha Beach which might help orient you to the area. The web site is: http://www.heroesforever.nl/Preston%20V%20Wells.htm
Omaha Beach
We were a somber group after touring the cemetery and viewing the Wall of Remembrance so  we decided to skip the museum at the cemetery and go on to Omaha Beach. Jim's photo of the Omaha Beach Memorial didn't turn out well, but you can see some great photos at http:en.tracesofwar.com/article/27692/Memorial-Omaha-Beach.htm If you didn't know what happened on Omaha Beach, you wouldn't know what happened there. The beach is lovely — the ocean a gorgeous collage of blues and greens depending on the depths. We were there on a beautiful day, the sun shining, a comfortable breeze, gulls flying and yelling greetings to each other and the funny-looking creatures wandering up and down the beach and sidewalks. Never in my wildest imaginings did I think I would be standing on Omaha Beach in Normandy France, approximately 40 yards from the shoreline. I could have walked further, at least another 20 yards but I didn't want to keep my companions waiting any longer than necessary.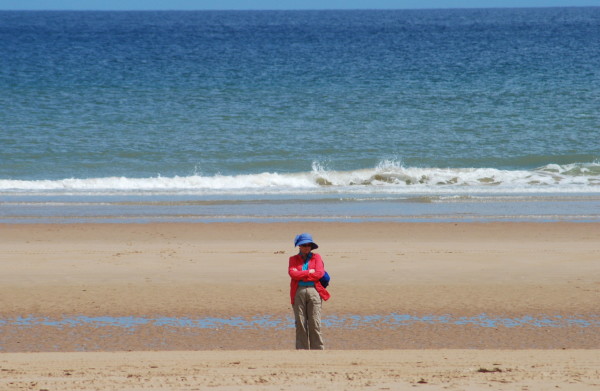 I tried to imagine what it might have looked like to 18 and 19 year old troops who were struggling through the sand and waves, wearing 80+ pound packs, seeing their comrades dead and floating through blood-red water. Two thoughts kept running through my mind. How did they do it, and would I have had the courage and willingness to sacrifice to do it, too? For me, the answer to the first question is that the men and women of my father's generation had a love, belief and pride in America that enabled them to rise above their fears. Risking their lives was less frightening than risking their freedom. As for the second question, of course I'd like to think I'd have the courage and selflessness to put my country and my fellow countrymen and women ahead of myself. But I haven't been tested so I don't know. As I walked back towards the shoreline, I picked up three shells — blue sea shells — that I'm going to have framed in a shadow box. Those shells represent the ability of the earth to heal itself in spite of what we do to it and to each other. They represent hope to me — hope that my grandsons never experience what my dad, and maybe your dad or your uncle, or your grandfather, or your mom or aunt went through during WWII.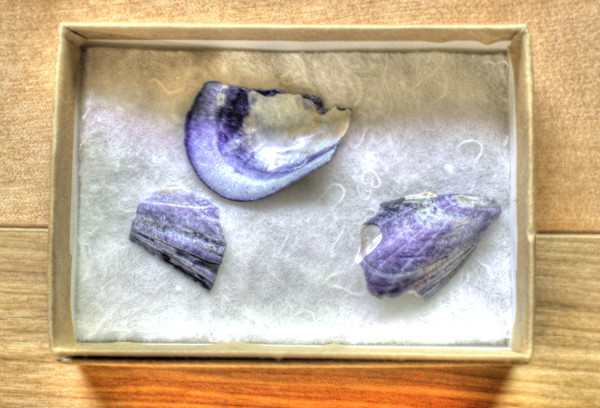 Utah Beach
We didn't make it to Utah Beach because all the roads leading to it were blocked off in preparation for the observances on Friday. I was disappointed because I wanted to see it and hoped that I might find some small souvenir. Utah Beach has also been restored so that it looks just like a lovely place for a peaceful walk, a romp in the ocean, or a place to enjoy the sun. The difference between the two American beaches, however, is that at low tide you can still walk along Utah Beach and pick up remnants from the battle. The souvenirs on Omaha Beach take some digging to get to, but they're there.
Pointe-du-Hoc
Pointe-du-Hoc, which is located between Omaha and Utah Beaches, was considered to be a threat to Allied success on D-Day because the Germans had installed six French 155 mm howitzers there. (http://www.dday-overlord.com/eng/pointe_du_hoc.htm) U. S. Army Rangers of the 2nd Ranger Battalion, under the command of Lt. Colonel James Rudder, were assigned to scale the cliffs at Pointe-du-Hoc and take out the howitzers. After the war the French government installed a plaque to commemorate Lt. Colonel Rudder and his troops.
The cliffs at Pointe-du-Hoc are approximately 100 feet high. U. S. Army Rangers had to scale these cliffs to destroy the German artillery which was well protected by the concrete and steel bunkers shown below. The photo below gives you some idea of what the cliffs look like.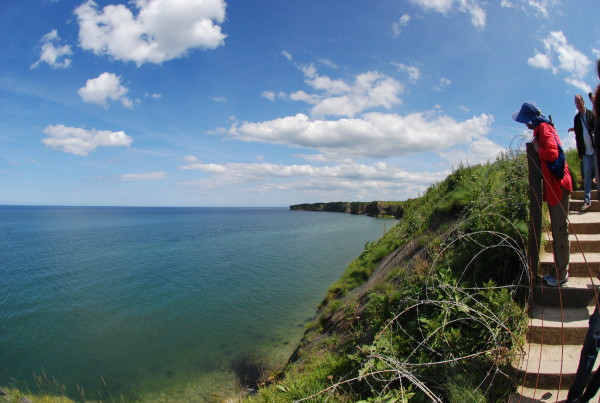 That's me in the red jacket, looking east at the cliffs at Pointe-du-Hoc.
Unlike Omaha and Utah Beaches, the area around Pointe-du-Hoc has not been restored. There are craters and destroyed German bunkers everywhere and the area is treacherous so you have to be careful where you walk. Jim took some great photos that show what Pointe-du-Hoc looks like today.
During the fighting there was little or no vegetation. The ground was packed dirt with small stones similar to the foreground in the photo below.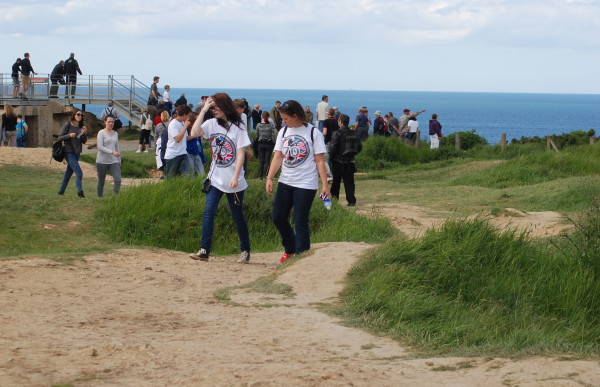 We wandered around the Pointe-du-Hoc site for well over an hour. It was very sunny and windy, and we were all thirsty so we decided to make one more stop and then call it a day.
Sainte-Mère-Église
If you've ever seen the movie, The Longest Day, starring John Wayne, then you know something about the French town of Sainte-Mère-Église. As part of the multi-pronged attack by Allied forces, American paratroopers from the 82nd Airborne Division were dropped over the village in the early morning hours of June 6, 1944. One of those paratroopers, John Steele, didn't make it to the ground — his parachute got caught on a spire of the local Catholic Church. The Germans decided to go through Steele's pockets and retrieve whatever papers they could find. They were surprised when they discovered that Steele was still alive. He was imprisoned in a German camp but escaped. He returned to visit Sainte-Mère-Église several times before he died. (http://www.airborne-museum.org/en/st-mere-eglise/john-m-steele/)
To commemorate Steele's experience there is a fully clothed mannequin, complete with parachute that hangs from the same church spire in the village of Sainte-Mère-Église. I found the experience of seeing the hanging replica both eerie and realistic. Jim took two great photos, a side view and a front view. Which do you like best?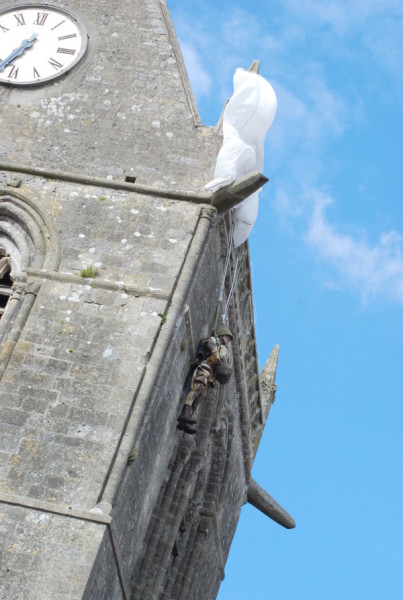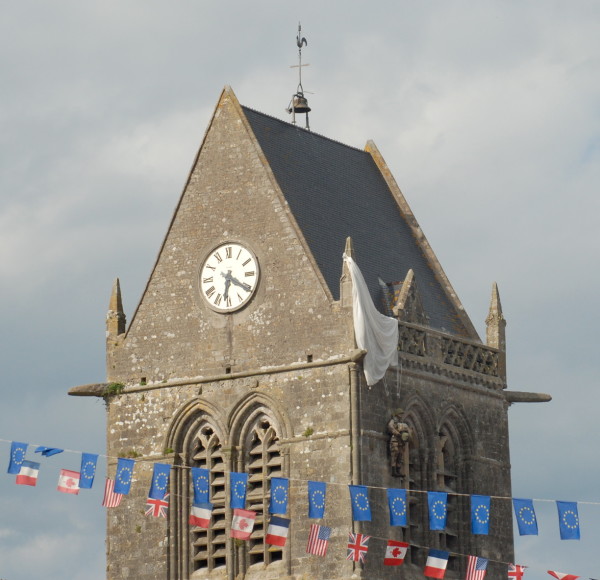 Many paratroopers were killed but the village was ultimately liberated and the parishioners of the local catholic church paid tribute to the American forces with a stained glass window. Below is Jim's photo of the window which depicts the Virgin Mary in the center and a paratrooper on each side of her. For a different view of the window, go to http://www.army.mil/article/22006/church-tower-windows-pay-tribute-to-paratroopers-who-jumped-into-first-town-liberated-during-world-war-ii/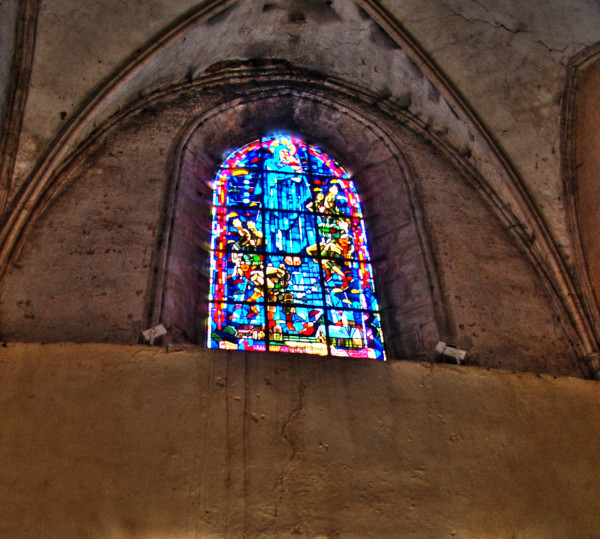 I will always view this trip to France, seeing these incredible historic sights, and meeting WWII vets  as one of the most memorable events of my life. Thank you for letting me share some of our experiences with you.