Ever since my return from Normandy, France, earlier this year, seeing the 8,000+ graves at the American Cemetery and walking on Omaha Beach, I've been haunted by the thought of loss associated with war. [for text and photos of that trip, please see my D-Day, 2014 blog]
Veterans Day – 2014 seems to have brought the recognition of sacrifice and loss to the forefront for me. I struggled for days trying to decide what to write for my Veterans Day – 2014 blog. I scanned countless web sites trying to find inspiration. Then I found the Honor and Remember web site and discovered that someone else with the same feelings and thoughts as I had already written what I wanted to say.
From the time of the revolution, men and women have fought and died to make and keep this country free. When there is a death friends and neighbors rally around the family who has lost a loved one, but as time passes, people outside the family forget – not the sacrifice but the name of the individual who made the sacrifice. Yet families who've lost someone to war want to know that "their sacrifice was not in vain and the nation would never forget." (www.honorandremember.org/our-origin/, accessed 11/10/2014)
For this Veterans Day – 2014 I'd like to share with you a letter dated March 12, 1863, written by my great great great great grandfather, Ezekiel O. Schenck, to his wife, Mary. Ezekiel was with the 76th Regiment Illinois Volunteer Infantry but as you'll see, the letter could have just as easily have been written by a soldier of today about the hardship of battle, the heartache of lost family members and comrades, and the longing for home.
Because the handwriting is difficult to read, I've transcribed the letter. Ezekiel's spelling and punctuation, like that of many folks of the period, was not always correct, and those errors make the letter more difficult to read and comprehend. For that reason I've corrected his mis-spellings and added punctuation for you. You'll note when you look at the top of the first page that Ezekiel wrote No. 11 on the letter. I believe he numbered each letter so that Mary would know the order in which Ezekiel intended the letters to be read.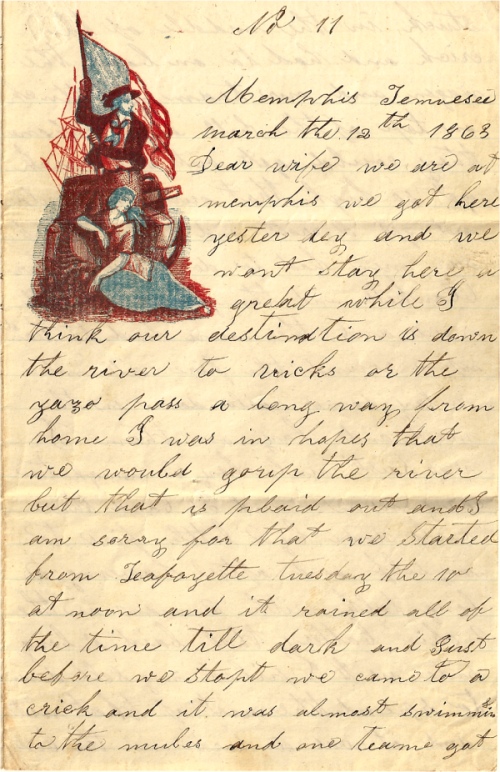 Memphis Tennessee
March the 12th 1863
Dear Wife:
We are at Memphis. We got here yesterday and we won't stay here a great while. I think our destination is down the river to Vicksburg or the Yazoo Pass a long way from home. I was in hopes that we would go up the river but that is played out and I am sorry for that.
We started from Lafayette Tuesday the 10th at noon and it rained all of the time till dark and just before we stopped we came to a crick and it was almost swimming to the mules and one team got stuck in the middle of the crick and had to unload the wagon and our team got stuck on top of the hill and before they could get out the crick got so high that our team could not get across and the most of our men had to do without their blankets and the ground was all mud and the men had to stand up around the fire all nite or lay some rails down in the mud and lay on them.
I was least unlucky enough to carry mine and I laid three rails down by a little fire to myself and after having a long talk with a man in the 7 Ohio Battery that laid along side us I laid myself down to spend the rest of that night and it was a hard one the best I could make of it and the next morning I went in town and had my likeness taken and the man was a cousin of Richard Malones. He is at Collierville [Tennessee].
I have just received a letter from Henry Hicks [one of Mary's brothers] and was glad to hear from him and the rest and what Capt. Williams said about Joseph. I respect Mr. Williams our captain very much for his attention and close observation. I have had a talk with Jeremiah Creamer since I started this letter and he said that he had saw a grave somewhere that was marked J. C. Hicks [another of Mary's brothers] and he thought it was near the fort. I told him to look around and if he could find him to drop a line to your father or me. I shall look, too, and see if I find anything that I think is correct I shall write and let you know.
The weather is nice now and the peach trees in bloom. Lettuce and onions aplenty and the trees are a getting green.
Memphis is a nice city and a nice country around it.
I have bargained for two of them pictures and I want you should give one to your father for me as a present from me and have them in a nice frame. Mister Lamport will fetch them and my likeness all so you may give Catharine [one of Mary's sisters] the one you have now and keep this one for the present.
I got $23.83 and I send you 20 dollars by Mister Lamport. Them pictures cost three dollars and my likeness cost one and a half. You can see how I spend my money. There's 52 dollars due me yet.
I am well as common at this time and hope you the same. Write often and I will do the same. Yours with all my heart.
E. O. Schenck
———-
Ezekiel drowned in the Mississippi River near during the battle of Vicksburg, Mississippi sometime between May and July, 1863. The letter reproduced above may have been the last letter he ever wrote to Mary.
May I offer my humble and most profound thank you to the families and friends who have lost loved ones in America's wars. While I don't know the names of your deceased family members, I honor their sacrifice and yours.
Cindy
———-
Notes:
To learn more about the 76th Illinois Volunteer Infantry Regiment, go to