This is the last installment of a four part series about events in the early hours and days after the bombing of Pearl Harbor. It was originally published on December 10, 2013.
Pearl Harbor – three days later
December 10, 1941
Since beginning work on Ila's War I have continually hunted for WWII materials that might help me better understand what life was like back then. I've gone to estate sales, used book stores, purchased stuff through eBay, talked to strangers about the project (and that ain't easy if you're an introvert like I am). I even put an ad in the Lincoln, Kansas Sentinel-Republican in spring 2009 to see what might turn up. The ad asked anyone with letters from WWII to call me collect. Imagine my excitement when I received a call from an elderly lady in Tescott, Kansas, 16 miles south and east of Lincoln. Arliene (Berkley) Matthews* was just 19 years old when she started work as a civil service employee with the Office of Chief of Ordnance at the War Department in Washington, D. C. This was her first experience living away from home so she wrote her family at least once a week, sometimes more. She told her folks about her apartment, her job, the people she worked with — all simple, routine, newsy, and reassuring to her family. But then December 7, 1941 – the bombing of Pearl Harbor – happened and the content of her next letter, dated December 10, 1941, changed.
December 10, 1941

Dearest Mother, Daddy, and Boys:

I full[y] intended to write last night, but . . . Sunday Westie [Arliene's roommate] and I walked over to the zoo and on the way back we could hear the newsboys hollering two blocks away. We were sure surprised when we saw the headlines. They had a meeting at the White House Sunday evening and a lot of people went down to the gates to see if they could see anything. A lot of people went to the Capitol and the Japanese Embassy, too. They didn't see anything though.

The Japanese are burning a lot of things at the Embassy, and the police think it is valuable papers they don't want to fall into the hands of the United States government. The Germans are also doing the same thing at their embassy.

Sunday night over the radio all army officials were told to come to work in full uniform so they could be easily identified. There are a lot of army officers in the Social Security Building [where Arliene's office was located until it moved to the Pentagon]. Major Rick [Arliene's boss] looks very nice in his uniform.

Monday morning a memo was sent around to everyone telling them not to say anything about their work to anyone. This morning when I got to work, all the shades in the building were down. I guess all the government buildings have to draw the blinds from now on. Yes all the buildings are carefully guarded. A guard walks around our building all day long carrying a big gun. There is also a special guard in the mailing and records room.

Today we had to give our name, address and telephone number to Col. Reed so he would know where to call us in case of an emergency any time – night or day. There is serious talk about having a 7 – day work week. I am hoping that don't [sic] go into being because I just live from one week end till the next so I can sleep late on Sunday morning.

So far our building doesn't require a pass or picture to let us get into the building but I guess we are going to have to have our pictures taken before long. . . .

All the army officers who are overweight were told to report for exercises. Major Rick weighs about 225 so he had to exercise all yesterday afternoon. He walked 8 miles and was late getting to work this morning. I am going to take this letter down and mail it and will come back and write you another. I still have more to say. Love, Arliene
According to the U.S. General Services Administration the total floor area of the Social Security Building, now named the Wilbur J. Cohen Federal Building, is 1,043,876 square feet, and the perimeter is 1,776 linear feet. [http://www.gsa.gov] Imagine having only one guard patrol that building. My, how times have changed.
The other thing I found startling in Arliene's letter and during our conversation was her description of blazing barrels set in the courtyards of the embassy compounds with Japanese and German officials hauling out armloads of documents which they threw into the fires while Washington, D. C. police stood by helplessly because embassy compounds are sacrosanct.*
I was unable to find any old photos of burning documents at the Japanese embassy in Washington, D. C. but did find one which shows documents being burned at the Japanese consulate in New Orleans. In this case, however, New Orleans police entered the consulate grounds but weren't able to retrieve any important or useful documents.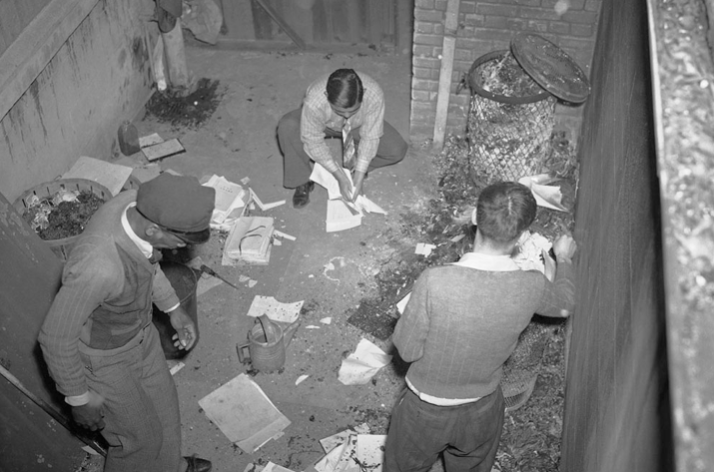 "Unidentified attaches of the Japanese consulate began burning papers, ledgers and other records shortly after Japan went to war against the U.S., on December 7, 1941, in New Orleans, Louisiana. Police later stopped the fire after most of the papers had been destroyed. (AP Photo/Horace Cort)" [http://www.theatlantic.com/infocus/2011/07/world-war-ii-pearl-harbor/100117/  *To learn more about the laws governing embassy and consulate grounds, see: http://diplomacy.state.gov/discoverdiplomacy/diplomacy101/places/170537.htm
__________
*Arliene died on February 9, 2013. She was an avid collector of all things historical, and also a fascinating conversationalist. I will always be grateful for her generosity and kindness. C