Estimates of War Orphans of WWII
Approximately 13,000,000 European children became war orphans at the end of WWII.* This is the story of one Italian orphan whom my grandmother supported financially for a time after the end of the war.
Grammy and the Methodist Church
When my grandmother, Wava Farrington, was still alive, I sometimes teasingly referred to her as Mrs. John Wesley because of her devotion and commitment to the Methodist Church. She was active in the church long before I was born and she expected that my brothers, my cousins and I would all demonstrate the same level of commitment. To that end she drove us to Sunday school and church every Sunday morning of my life until my family moved from Lincoln, Kansas. The only acceptable excuse for being absent – in Grammy's opinion – would have been death, and even then Grammy would probably have expected us to rise from the dead to confirm her faith and make certain we didn't shirk our Christian responsibilities.
Shortly after the first of the year, 1956, my grandmother heard a presentation about Casa Materna Orphanage in Portici, Naples, Italy. It was "the only Methodist orphanage and the only Protestant one in all Italy." (The Norwalk Hour, Norwalk, Connecticut. April 4, 1967.) More than half the orphanage's financial support came from Methodists in the U. S. with part of that support coming in the form of donations when the Casa Materna Children's Choir made it's annual tour to the United States. Grammy learned of the orphanage and the choir just prior to its departure from Italy for it's 1956 United States concert tour.
Grammy wrote to the orphanage saying that she wanted to sponsor a girl with a special need. Although I don't have a copy of her letter, based on the response she received from the assistant director, Dr. Teofilo Santi,  I think Grammy expressed a desire to sponsor one of the girls in the choir, hoping that she and the girl could meet when the choir toured the U. S.
Dr. Santi wrote back with a name – Nunzia D' Ariano, a 17 year old girl who had lived at Casa Materna since 1950. Below is Nunzia's story, taken from Dr. Santi's letter dated March, 1956.
Nunzia's story
Nunzia "spent her childhood in the most squalid misery in the caves of Naples. Her father is a cripple and her mother had tuberculosis and died several years ago. After her death the father tried to earn a living but was unable to do so. Some of the neighbors took pity on the child and tried to help her, then brought her to Casa Materna where she has been for five years. It took her a long time to learn to smile but she has finally found out that life can hold pleasant things as well as sad ones and she has become a sweet, happy, and helpful girl. Her school work has always been difficult for her and she could hardly keep up with the other children. On the other hand, the choir [of Casa Materna] has meant a great deal to her, for she loves to sing, and in really accomplishing something she has found herself as a human being. I am sure you will love Nunzia when you meet her. Certainly, she has a special need of a friend. Enclosed you will find a photograph of Nunzia."
In the small stack of photos that Grammy kept and treasured is a photo of Nunzia taken just prior to the choir's departure from Italy. You can see the remarkable transformation in Nunzia as a result of living at the orphanage, having regular medical care, meals, clothing, and shelter – all the things we take for granted if we aren't living in a war zone.
The Casa Materna choir appeared for its first U. S. performance of 1956 on February 20. Orfeo Pinna, choir master, had worked up two different programs, A and B for the choir so that the performers didn't have to sing the same songs each night. The schedule was grueling – Program A at Scarsdale, New York on the 20th, Program B at Mt. Vernon, N. Y., on the 21st, Program A at Manaroneck, N. Y., on the 22nd, Program B at Crestwood, N. Y., on the 23rd and on and on and on.
In the meantime, Grammy was exchanging phone calls with the tour director for the choir, trying to arrange a way that she could meet Nunzia, and perhaps even bring her to Lincoln, Kansas for a day or two. I vaguely remember the tension at Grammy's house as she talked with my mom (we lived across the alley from Grammy) about the progress and set-backs in trying to make those arrangements.  The biggest problem was working out the logistics so Nunzia could leave the choir for an over-night visit without missing any performances.
At last arrangements were finalized. Grammy and Grampy drove to Salina, Kansas, 40 miles from Lincoln, and heard the choir perform. I don't know how it happened, but the local newspaper learned of the meeting between a local woman and a choir member, and published a picture and story about Grammy and Nunzia in the local paper. That story and photo are reproduced below.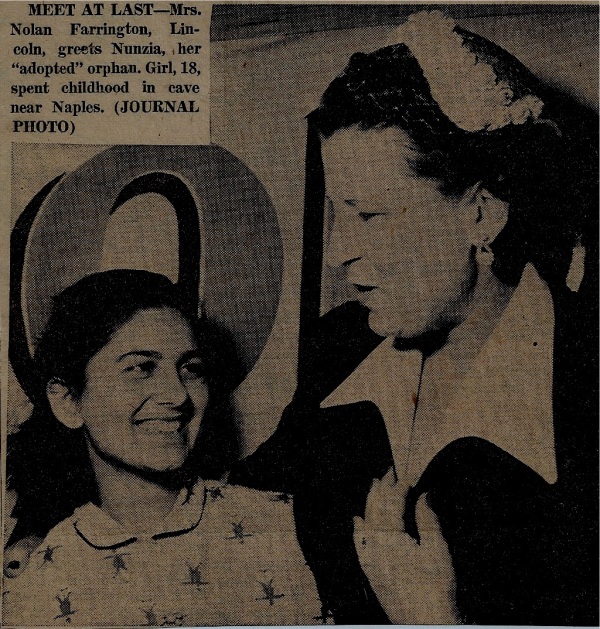 After the performance my grandparents drove Nunzia to Lincoln for the night. It was very late by the time they arrived back home, but I remember clearly Grammy and Nunzia walking through the back door of  my folks' house. My dad, who was a traveling salesman, was on the road and gone for the night. My two younger brothers were already in bed, sound asleep. My mom and I were still up, waiting. Nunzia gave me a shy smile – she didn't speak English and I, at age 6 didn't speak Italian. I smiled and waved and nodded my head. My mom, smiling the entire time, gave Nunzia a huge hug which Nunzia returned. Grammy smiled, talked and gestured throughout our brief meeting, then she and Nunzia walked back across the alley to Grammy's house for a late-night visit and a good night's sleep.
Everyone had to get up early the next morning – for more picture taking, breakfast, and then to take Nunzia back to Salina so she could re-join the choir before they headed out to their next stop, Winfield, Kansas.
Nunzia and the choir completed their American tour in June of 1956 and then returned to Italy. Nunzia remained at Casa Materna until close to the end of the year when the orphanage received a letter from Nunzia's father asking that she be released to come home and assist him. By this time Nunzia was 18. She had received training as a seamstress, and last anyone heard she set up shop and worked to support herself and her father.
The end of Casa Materna
Casa Materna continued on for some years but closed sometime in the 2000s. If you google "Casa Materna Orphanage Italy" you'll find numerous web sites with information including a fascinating story about the orphanage and some of the crew of the USS Forrestal-CVA 59 at www.wellsclan.us/history/navyyrs/ss06.htm.
Other Resources for Further Research
The Lost Children, by Taza Zahra, published by Harvard University Press, 2011.
www.portraitsofwar.wordpress.com – This web site, created and maintained by Brennan Gauthier, an archaeologist for the State of Vermont, has memorable photos of war, including orphans of WWII. An excellent web site!
Notes:
*The Lost Children, page 6.